Panoramic head Panobaby-Y
With the panoramic head Panobaby-Y and your Xiaomi Yi or Xiaomi Yi 2K you capture detailed and precise cylindric panoramas (VR images) quickly and with ease. It takes only five shots to create an image with 60 megapixels.
The image extends over a range of 360 x 120 degrees. That is, the captured area is covering everything around you almost from the very top to the very bottom.
The head rotates the lens exactly around its parallax free point – also known as nodal point. Accordingly the created image has zero parallax error which makes stitching fast and easy and provides results of high quality.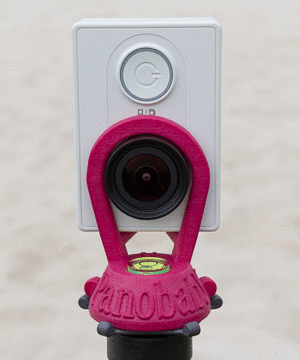 Supported cameras
The panoramic head Panobaby-Y is known to work with these action-cameras:
Joints from top to bottom
Camera and Bracket: The camera in portrait position snaps into the bracket.
Bracket and foot: Bracket and foot are connected with each other firmly and continuously rotatable. Well visible and palpable markers allow for quick rotation in steps of 72 degrees for five shooting directions.
Foot and tripod: Due to a contained nut with a 1/4″ photo thread, the foot can be attached to a tripod.
Advantages
Small, light, precise and robust
Quick and easy to use
Can also be used horizontally or upside down
Allows for panning video shot
More affordable than the Panohero-models