Ball head Rondo-Y
The light (15g) ball head Rondo-Y moves your GoPro Hero quickly into any orientation – so you can capture amazing scenes anywhere.
Holds your camera in
portrait or landscape

Rotates, tilts and rolls it
smoothly & continuously
Is stable without screwing
Can be used standalone or
on a bottle / Minipod / tripod
The tiny Minipod can be tightened to an ordinary tripod or it can be used standalone.
The versatile Rondo-Y fulfills its function as ball head even on any bottle or simply on rough ground: On the one hand it does not roll away or slide through because the center of gravity is ideally positioned. On the other hand it can be reoriented quickly and still remains stable in any position on any rough ground.
The rondo provides good service also as panoramic head as long as objects are not overly close in the image. For wonderful video panning the Rondo provides the required smooth guidance.
Supported cameras
The Rondo-H is known to work for these action cameras:
Joints from top to bottom
Camera and Rondo: The camera gets inserted vertically down into the Rondo. It sits tight there.
Rondo and Minipod: The Rondo rests loose on the Minipod. The center of gravity of the camera is at the center of the spherical bottom of the Rondo. Therefore the Rondo with camera stands stable in every position.
Minipod and Tripod: A nut with 1/4″ photo thread allows the tightening of the Minipod to a tripod.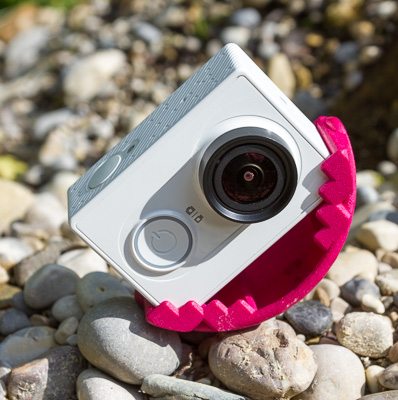 Advantages
Suited for photo, video, HDR, long exposure and panorama
Can be used directly on sand, stones and other rough ground
With Minipod usable on table, ledge, stake etc.
The Minipod can also be used on a tripod
Quick and easy to use
More versatile and affordable than the Panohero-models
Good for smooth video panning